I'm not sure if you're a creative type, other than using your journal, but I have always been into some kind of creative expression. Be it painting, drawing, making stuff or jewellery. Over the last few years creating jewellery has been the most satisfying expression of my creativity yet.
I have found, though, that I respond really well to a challenge. I'm not sure what it is. Something about a deadline, a theme, or limited choice of materials, just gets my brain churning over and my fingers working. I love it. There's always a new skill to acquire, a way of looking at something from a fresh point of view, or just the joy of creating something I will wear, no matter how it might place in any contest.
Recently I entered the Use the Muse 3 contest sponsored by
Artbeads.com
and
TierraCast
.
Scarlet Lanson
created the idea on her
Beader's Muse blog
, and it's been a hit with beaders and creative types the world over. I've only managed to participate in the last contest, but check out her blog for the other two.
Right now we're waiting for the
Big Reveal
, where we finally get to see what the 'muse' was and all the entries in the competition.
In reply to the question on Scarlet's blog today: "
What is your favorite part about the USE THE MUSE Contest experience?
" I would have to say, the challenge, reasons given above. There's just something about a challenge that brings out the best in even the very new beader. Challenges push you out of the excuses, the doldrums and the can't dos. You create because you must. Someone is waiting to see your piece. You've spent money and time thinking and working this piece. You can't back out.
Challenges always inspire me. I enter them, but win very few. And that really doesn't bother me. I am always a winner because I have a beautiful piece of jewellery to wear, sell or give away. What else could I want?
How do you feel about challenges? Do you join in to further your own creativity, skills or simply to take part? Do you set journal writing challenges for yourself? We could discuss such a challenge in the comments section if you're interested. Leave a comment and let me know.
Anyway, to inspire you, I hope, here's a sneak peak of my entry into the Use the Muse 3 contest: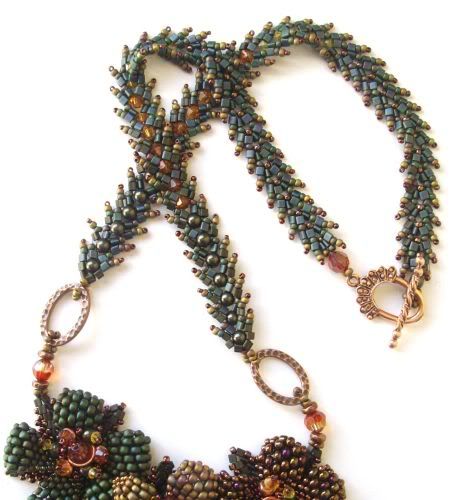 Heather
Photo is my own
Click here to visit Planet SARK.